According to the Dubai Housing Authority (DLD), the real estate market here still sees huge value transactions in the first half of 2020 despite the effects of the Covid-19 pandemic.
The figures show that the real estate sector in Dubai is gradually returning to normal. This has been driven by stimulus packages and initiatives launched by the government and departments over the past few months.
Reports say there are a total of 22,779 property purchase procedures conducted in the first six months of the year, totaling approximately $ 20 billion.
Regarding land mortgage registration , some outstanding transactions in quarter of /2020 can be listed as Hadaeq Sheikh Mohammed bin Rashid area with the value of 85 million USD; Me'aisem First with a value of about 30 million USD or Jabal Ali with a value of 29 million USD.
Regarding registration of selling various properties including land, condominiums and other real estate assets in quarter 1 of 2020, Al Merkadh topped with 631 transactions; followed by Dubai Marina with 515 transactions and Al Barsha South Fourth ranked third with 430 transactions.
Regarding investment, the report stated that in the first quarter of 2020, 9,160 investors made approximately 11,940 investments worth more than US $ 5 billion, while the number of investments in the second quarter of 2020 decreased down to 6,523 items with a value of nearly 3 billion USD.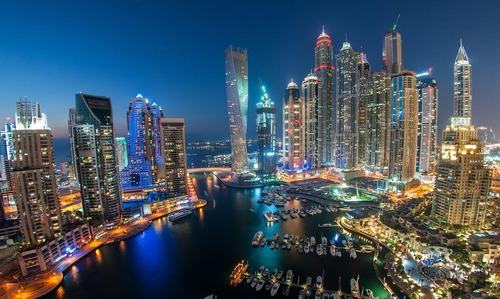 In the second quarter of 2020, the Dubai real estate market also welcomed 1,223 Gulf investors and 706 Arab investors. The report highlights the attractiveness of the Dubai real estate market to foreign investors with concrete evidence that the total investment received by Dubai is about more than $ 1.5 billion.
Women make up a significant portion of the quantity and value of investments. In quarter 2/2020, up to 1,781 female investors completed 1,922 investment transactions with a value of more than 700 million USD. More broadly, in the first half of 2020, 4,536 female investors completed 5,112 investments worth nearly US $ 2 billion.
Areas with the highest real estate investment activity include Hadaeq Sheikh Mohammed Bin Rashid, Dubai Marina and Jabal Ali. In terms of sales, Dubai Marina topped the list, followed by Business Bay and Al Merkadh.
In a separate report issued by Dubai Statistics Center, the real estate sector recorded a 3.7% higher growth in the first quarter of 2020 compared to the first quarter of 2019, contributing 8% to the development of Dubai economy. This sector plays an important role in increasing the speed of recovery in the business sector. Last year, real estate activities grew by 3.3% and contributed 7.2% to Dubai's total GDP, with a value added of more than US $ 8 billion.